Nothing to see here…keep moving!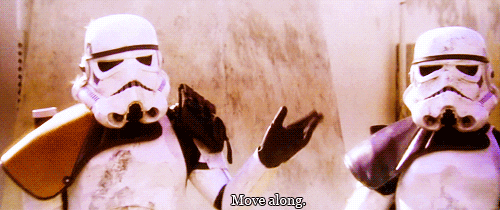 The Wedding Planner
Seriously! South African wedding planners are the WORST! Since my last post, I'd contacted at least a dozen via their websites. ONE got back to me – I didn't respond because it was clear she hadn't even bothered reading my message (she asked me about my fiance and the theme of the wedding!). Call me crazy, but I'd like to think you actually know what I want before responding?!
So nothing good to report there. I may have to look at UAE based planners to do it, although they'll have to fly in and out to SA to prep our place for the ceremony and that would add up.
The Officiant
We don't have an officiant yet, but that can be sorted closer to the day. A Commissioner of Oaths would do nicely. It did the first time.
The Ceremony and Reception
The ceremony area will be outdoors with chairs set up on the lawn. The aisle will be lined with solar lamps and a big white tent will be set up right next to it for the reception. In case the weather turns on us, the sides of the tent could be lowered, but will be up all the time otherwise. Round tables will be on one side with a dance floor surrounded by sofas on the other. That or the dance floor will be set up outside, depending on weather forecasts again.
I have finalised the guest list: 100 strong. Mostly friends and very close family. No hangers-on, or "I met you once at aunty Rosie's funeral" people. I expect some will be having all kinds of feels about that, but it is OUR celebration of OUR vows. Feel free to not invite us to yours.
The Dresses
I have kinda sorta decided on dresses for me and G. Hubby hasn't even looked at the suits, ugh! I'm going with ivory floor length and G's decided to go for her favourite colour, green. I'm partial to the style of Audrey Hepburn so decided on this Audrey – inspired taffeta gown. The best part? The pockets. I LURVE a dress with pockets!
It's also easy to wear with a heels ( for prancing!)or flats(for dancing!) and can be shortened into a day dress for use after the ceremony. It's also cut generously around the inevitable food baby I'll develop on the day!
Dressmakers are wonderful in the UAE and can make this exactly as it looks on the pics. We'll start shopping for fabric soon!

Hair and Makeup
Damned if I'm growing out my hair for a VRC! So it's pixie all the way. And since I am a queen I want a crown too!
G's hair will probably be waist length by that time so something braided in it's naturally curly state will do. Bearing in mind it will probably be hot, I have to keep it off her face and neck. Her skin flares up really easily so we'll be staying away from makeup for her.
The Flowers
We've decided to nix the roses for the ceremony and the reception and go with locally grown flowers. I'm reading all the blogs ( especially Diane's) to learn about the flowers we could safely source.  I am liking the Flame Lily, the Gladiolus Alatus and the Geissorhiza Splendidissima. My mom's an avid gardener and Stodel's aficionado, so I guess I'll be calling on her soon!
The Menu
Food,  glorious food! Our menu is all about seafood (me!)and roasts(him!). Guests will be able to choose from the following:
Hors d'oeuvres:
Herbed tabouleh with smoked duck breast
Plat Principal:
Lobster tail steamed in beer
Alaska Salmon bake with Pecan Crunch
Garlic and herb roast lamb on boulangere potatoes
Simple seasoned pork roast
Sides: asparagus, baby potatoes, roast mixed vegetables, fresh garden salad, sweet potato fries, brussels sprouts and string beans in garlic butter, sweet corn kernels, sweet baby carrots.
Carte Des Dessert
A selection of fruit mousse cups: Strawberry, blueberry, mango, chocolate
Is it obvious I'm a Francophile yet?
Wines will be sourced from Spier in Stellenbosch or Eagle's Nest in Constantia. List TBD. An open bar means having to arrange all kinds of things for those who "enjoy" that too much!
Fresh fruit, cheese & crackers and biltong trays will be available for those who get snacky after 10PM.
The Party
I'm still looking for a suitable live band, but its hard since most bands have engagements at hotels or other venues booked at least a year in advance. We're easy listening folk, but throw down on the reg, so the band has to play popular songs to get people moving and grooving after all that food!
The cake is the one bugbear because we have such different tastes when it comes to this. He's traditional, I'm inclined to different. Perhaps two cakes? I dunno…we'll save that for the next update!
The Details
Date: TBC ( around December of 2019)
Venue: Our Backyard
Time: Ceremony at 5PM, Dinner at 6PM, Reception at 8PM-12AM (because neighbour's!)
Dress code: Evening/Black Tie Optional
I'm proud I managed to get this much done in a month! Knowing what you want makes life so much easier. Let me know what you think in the comments. Also if you know any wedding planners who have experience planning an international wedding, let me know. 
Until next I blog, 
K.